Our Club:
BWD has a long-standing dive club which is made up of locals and visitors who want to do as much diving as they can! Any resident or visitor can join, provided they are a certified diver already. If they plan on going above the maximum number of dive trips on a package (more than 5 days of two-tank dive trips) then for them, it's most economical to just Join the Club!

Join the Club!
One rate for a season, and dive as much as you like in the calendar year – so long as there is space on the boat, and the boat is going out that day, then they are welcome to come along. If we do extra events, like Night Dives, Lionfish Tournaments, Day Trips etc, then an extra charge may apply depending on the event. Ask us how to join!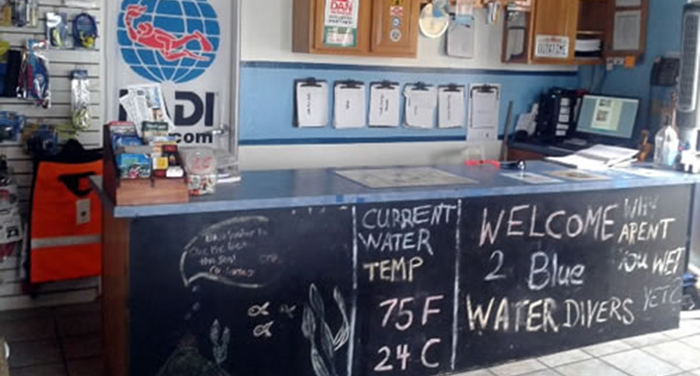 JOIN THE CLUB!
ALREADY A MEMBER?
Are you a dive pro and want to help out or teach courses? Do you want access to unusual dive trips to new or
infrequently dived sites? Are you a Lionfish hunter? Photographer? Just want to know what you can do that's new and different? Better yet – do you have suggestions? We can help.


CONTACT US NOW!
Our Awards:
BWD is grateful to have once again been awarded the TripAdvisor Certificate of
Excellence for 2016.
This awards is given to operators who have a consistent 4 Star or above rating on
TripAdvisor and meet the requirement of a minimum number of reviews within the
period.
We closely watch our reviews and we
respond to those which need clarification or more detail. We appreciate any and all
reviews – good and bad! – but we do hope that anyone with issues or concerns about their time with us will also contact us in some way directly, so that we can more efficiently address any problems.
Testimonials
Chris and crew were thoughtful, professional and made the day fun. They were also easy to get a hold of and communicative, unlike some of other dive shops on the island.
Amy H.



The dive sites were spectacular; great visibility, three wrecks, plenty of healthy coral and a good variety of fish. Shallow water diving at its best!

An Inspired Soul



I did my PADI recertification today and had a great experience. The dive masters are well trained and friendly. I will definitely be doing more diving with these guys.

Jane I.



I recently had the pleasure of diving with Blue Water Divers. It was an easy set up, good gear and boat and best of all, close to dive sites. the team on board were good and the wrecks were interesting.

Joseph U.



This is a top notch dive shop! All the staff were extremely friendly and made our dive very comfortable. Capt Dave was amazing and a lot of fun! My two teens were just snorkeling and he made them feel very comfortable and welcome.

Sandi R.